Products and Services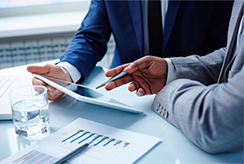 At Hometown Advisors, we combine independent research with a variety of products and services to build the best solutions for our clients. We take a objective approach to portfolio construction and management.
Services
Managed Asset Plans – For professional fee-based portfolio management through LPL Financial.
Tax-Advantaged Investing – To help reduce your tax liability and let more of your money work for you.
Financial Planning – Setting financial goals, developing and implementing financial strategies and monitoring your progress in the areas of Cash Management, Risk Management, Accumulation goals, Retirement, Estate Planning and Business Succession.
College Planning – Long term planning to manage you're ready when your children are.
Retirement Planning – Designing and investment strategy to help you towards your retirement goals.
Estate Planning – For preservation of wealth from generation to generation.
Trust Services – High quality professional trust services including custody, asset management and administration.*
Business Succession Planning – Advanced planning techniques for closely held businesses.
Risk Management – Long Term Care, Life Insurance and Disability, to ensure you and your heirs are taken care of.
Cash Flow Analysis – For everyday budgeting.
Investment Portfolio Analysis – To keep you informed of how your investments are performing, and to make adjustments as needed.
Annual Portfolio Reviews – To review your current holding and help you make any necessary changes or adjustments.
Fiduciary Consulting Services – Focusing on clients who are responsible for large pools of assets and assisting these clients with fulfilling their fiduciary responsibilities.
Online Account View – Online access to LPL accounts.
*LPL Financial Representatives offer access to Trust Services through The Private Trust Company N.A., an affiliate of LPL Financial.
Products
Individual Stocks
Individual Bonds
Mutual Funds
Fee Based Asset Management
Separate Account Management
Unit Investment Trusts (UIT)
Real Estate Investment Trusts (REIT)
Index Funds
Alternative Investments
Exchange Traded Funds (ETF)
Variable and Fixed Annuities
Municipal Bonds
Corporate Bonds
Mortgage Backed Securities
Treasury Bonds and Notes
Money Market with Check Writing
Life Insurance
Long-Term Care Insurance (LTC)